Porcelain Inlays / Onlays
Porcelain inlays and onlays offer an exceptional amount of strength that makes them an excellent choice for supporting weakened molars or back teeth. They are usually for teeth that must stand up to heavy chewing and are severely decayed or previously undergone several fillings. Different from crowns, which cover the tooth in its entirety, inlays and onlays are intended to restore and protect a particular part of the tooth. 

Porcelain inlays and onlays can be customized to meet the shade of your natural teeth, ensuring a more attractive, natural look. Inlays and onlays are fashioned from the same high end porcelain material used in crowns and bridgework.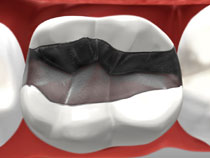 Patient education library includes information on various topics ranging from dental care to oral health problems.
Access Patient Library »
Dr. Woody Soonattrakul 904 Talon Drive O'Fallon, Illinois, 62269, United States (618) 726-2280