Composite "Tooth Colored" Bonded Fillings
For enhancement of esthetics composite or restorations that are tooth colored are recommended. 
After removing decay from the tooth, the doctor and assistant will custom color match the composite filling material to the patient's tooth shade and bond it into place. After the filling is in place a high gloss polish is performed to blend the filling material into the surrounding tooth structure. The result is a durable long lasting dental filling that will enhance your smile and function. 

If you would like to find out more information, contact Hometown Dental today.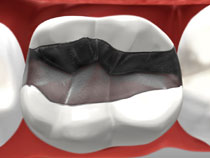 Patient education library includes information on various topics ranging from dental care to oral health problems.
Access Patient Library »
Dr. Woody Soonattrakul 904 Talon Drive O'Fallon, Illinois, 62269, United States (618) 726-2280